The Alexander McQueen Fall/Winter 2012 2013 collection by Sarah Burton is finished with feathers or is completely made of feathers paired with Levar Burton Geordi La Forge, of Star Trek : The Next Generation, inspired, glasses. At least with Alexander McQueen Haute Couture line that is. With McQ on the other hand it took me a few minutes to realize that it is how the female models hair was styled and not a fur hat. A few of the pieces I could actually find something to like about while a very few other pieces seemed to have grown on me. Of course my two favorite pieces from Alexander McQueen Collection are of course red and black. There is a dress from McQ that is a black floral that has a 1950's vintage feel that I like plus one that is a floral print. But the hair style on the models... EGADS!
So here is the Alexander McQueen Fall/Winter 2012 2013 and the McQ 2012 2013 collection. I hope you find some pieces to enjoy. And yes I will put in a thought or two on some of it.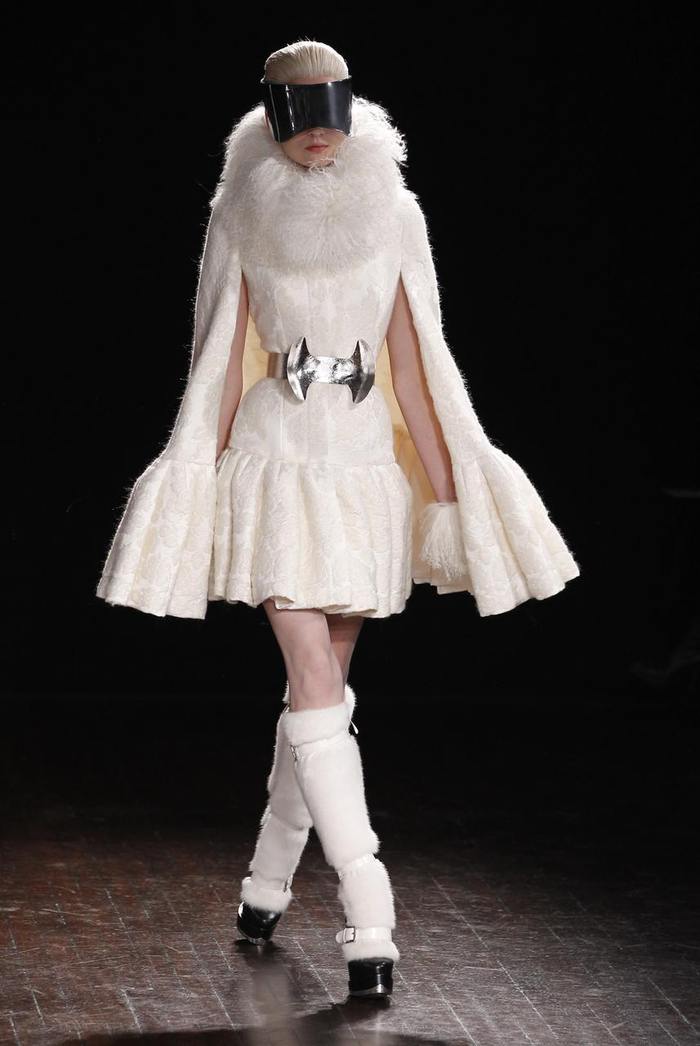 Now this dress and cape is very nice. The only drawbacks are that you would probably freeze wearing it. With the exceptions of your neck and feet. And those shoes look like pipe insulation that gets put on outside pipes when a hard freeze is predicted.
If you want a pink flocked Christmas tree this Christmas season here it is for you


This outfit really isn't all that bad. Bit of Morticia Addams feel for winter. That is probably why this piece grew on me , I love Morticia Addams.
I love the pink. But of course common sense is to put the shoe out on display as a piece of art because there is no way to walk in them. Unless you don't mind walking on your toes.
First McQ piece. This has a 1940's feel to it. I actually do love this piece and the hair actually goes well with this
This is a favorite of mine.
Alexander McQueen Fall/Winter 2012 2013 Collection
The Alexander McQueen shoes that have heels and are real shoes are very nice and stylish
She looks depressed. But I do like the outfit
Love the jacket!


McQ Menswear - a bit dashing
Like the McQ dress just not the dour looking model
A lot of these McQ pieces seem to be severe. But that maybe just due to the hair and make-up, very totalitarian.
A pinkish walking rosette
Maddona-ish
Frumpy, Dumpy and Saggy
This I actually find to be kind of cute.
This shoe reminds me of a Clydesdale horse's hoof.