I've done my post of the Oscar winners now it's time to move onto the most important part of the Oscars, the fashion and of course " THE INCIDENT".
So I shall start with "THE INCIDENT". It is when when that ass Sacha Baron Cohen came dressed as 'The Dictator' and with an urn full of Kim-Jung Il "ashes"even though he was asked by the Academy not to do such a thing. Fault of the Academy Awards is that they LET him walk the red carpet even though they said that Cohen would not be allowed to do so. Now here we have Sacha Baron Cohen walking the red carpet with his urn and he comes to Ryan Seacrest, who proceeds along with his interview of the ass. Now just because I am not all that interested in Ryan Seacrest does not mean I want anything bad to happen to him, but with Cohen on the scene that is what happened. The jackass ( sorry to insult jackasses everywhere) then goes and "accidentally" spills the "ashes" ( turns out it's just biscuit mix) onto Ryan and essentially ruining his suit, so that is when the security decides to remove Cohen from the scene and hopefully kicked his sorry butt out of the Oscars. I hope this publicity stunt for what is apparently a sucky movie "The Dictator" ruins Cohen's career, at least in the U.S. I don't really believe it will have too much of an adverse effect on him in Britain, after all is supposedly Freddy Mercury in a movie being done about the rock group Queen.
Thank you for allowing me my little rant NOW on to the Fashions:
Emma Stone, darling your precious and you have good taste but honey you're not Nicole Kidman or her minnie - me, so please don't try that fashion no-no again. Nicole has the height and right proportions to carry this dress off flawlessly, you don't. You are only 5'6" and Nicole is 5'11" so of course it is going to look dumpy on you. Plus, YOU DO NOT COPY WHAT SOMEONE ELSE HAS MADE ICONIC! And where is your 'stylist' whoever they are they should have their license and stylist membership club pass revoked because they obviously do not know what they are doing. And what exactly was Giambattista Vali thinking make a cheap looking knock off of Nicole's dress by Nicholas Ghesquiere ?
The right way
The wrong way
Now Glenn Close had some va-va-voom this year. She was the Helen Mirren of this years Oscars, even if she did bear a striking resemblance to Camilla Parker-Bowles, Duchess of Cornwall.
Jessica Chastaine who played Celia Foote of "The Help" wore a dress by one of favorite design houses, Alexander McQueen. Now I know some of you may have looked at my Alexander McQueen post and will see that the dresses there are very similar to her dress and a good way to wear the dress, but once again there is another one that should not have worn the dress because of her short stature. Now if Jessica had put her hair up and maybe worn higher heels, you know do something to try and elongate her body it wouldn't be as bad but here is another style team that did not try. SHAME ON THEM!
Presenter Milla Jovovich dazzled the Oscars' red carpet in this beautiful one-shoulder Elie Saab sequined gown. She is at least one of the ladies Oscar night who was absolutely classy personified.
In what maybe described as gutsy in some circles, Best Actress Nominee Viola Davis, for her role in "The Help", stepped onto the Oscars red carpet in a custom made green strapless Vera Wang dress and au natural hair, no wig. Honestly, I think she looks good without a wig. Very Real. Very classy. So yes maybe it was gutsy for Ms. Davis to go out without a wig, because L.A. is a town where reality seems to get lost. But I can guarantee you this much... we'll never see Dolly Parton without a wig, not even when she's dead ( may she live for many years to come).
Viola Davis with her handsome husband, actor Julius Tennon




The actress that has seemed to dominate the top of every best dressed list this weekis another Best Actress Nominee, Rooney Mara of "The Girl With the Dragon Tattoo" in her white Givenchy. Amazing.
Now this next one may surprise some of you by being put on a fashion list because she is an entertainment reporter and not an actress. I am talking about E!'s Giuliana Rancic in her Tony Ward dress. I for one think she looked better than some of the stars she was interviewing. Did she interview Meryl Streep?
God Bless Meryl Streep, she won the Best Actress ward, but that dress she wore... Lordy! I don't know if she thought with all those folds in the dress that if she didn't win an Oscar she could always snatch one and hide it in the folds. Or better yet her cleavage area of her dress.
Louise Roe...ANYBODY? Well it is said that she is television presenter, model and fashion journalist. Wearing a dress that has been described by some as a folded napkin, I don't think I would taking any fashion tips from her.
Louise Roe just turned 30, so why is she dressed like an 80 year old matron?






Best Supporting Actress Oscar winner for "The Help", Octavia Spencer needed no help winning on the red carpet while wearing a winning dress from Tadashi Shoji. Her dress reminds me of a star burst. I guess that is what Octavia Spencer is, a star bursting onto the A-list scene.
I know Oscar nominee Michelle Williams made a lot people's best dressed list but I'm just not feeling her gown. I don't know if the color of her dress photographs badly or what but that coral has got to go. As well as the pattern of the dress reminds me of a chenille bedspread and the hip shelf ( I don't know what else to call it ) looks out of place, but then I don't like hip shelves anyway. Louis Vuitton can do better.
Berenice Bejo, Oscar nominee for Best Supporting Actress in "The Artist" looked stunning in this beautiful champagne beaded gown by Elie Saab.
Why Tina Fey was at the Oscars I don't know but she did look lovely in her Carolina Herrera dress. Such a classy dress. Love the color on her and the dress could have really hit it out of the ballpark if it too did not have the hip shelf.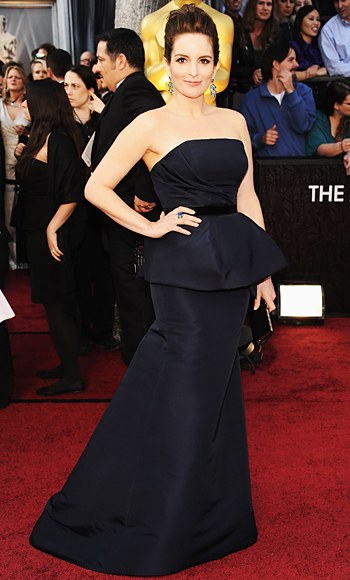 Okay now for the two most talked about dresses Jennifer Lopez's and Angelina Jolie's.
Angelina wore a black Atelier Versace gown with a slit that went as high as an elephant's eye and I don't care if it did. What comes to my mind is that she was feeling a little reminiscent about about "Mr. & Mrs. Smith" where she met Brad and decided to wear the dress. And her sticking her leg out was just for laughs.
As far as Jennifer Lopez's Zuhair Murad dress is concerned, it was okay. I wasn't wowed by it. It is what it is. The only thing that made her dress have any resemblance to interesting is that people thought she slipped out of her dress on top when she hadn't. I guess it was just some horny men looking for an excuse to enjoy the Oscars.