It seems that we have lost a lot of people in the music industry these last months Levon Helms, Adam Yauch (MCA of the Beastie Boys ) and now, shockingly today, the Queen of Disco, the lovely Donna Summer, from what has been reported, to cancer. She died this morning in Key West, Florida with her husband Bruce Sadano, of the R&B group Brooklyn Dreams, and her three daughters.
Yes, we think of Donna Summer as the Disco Queen but that was not her first choice of music. Born Ladonna Adrian Gaines on December 31, 1948 in Boston, she got her start in her church in the Boston area neighborhood of Dorchester, Massachusetts, when she was 10 years old and replaced the singer that was supposed to be there but did not show up. Her priest thought it would be cute to have Donna sing, thinking she would have this cutesy little girl voice and boy did she fool him. She opened her mouth and out came a voice that belied Donna's 10 years. Weeks before she was to graduate from high school, in 1967, she left home for New York with her blues-rock band
Crow,
where they tried and failed to land a record deal. When the band realized this was not going to happen, they decided to split up with Donna staying behind to pursue her dream of making music. She auditioned for the role of Dionne in the musical
Hair
but lost the part to fellow aspiring singer, Melba Moore, but Donna Summer did agree to take the part in the Munich production of the play. Reluctantly, her parents gave her permission to move to Germany for the work.
While she lived in Munich she became fluent in German and performed in the musicals, the German version of the Broadway musical
The Me Nobody Knows,
Ich Bin Ich ( I Am Me),
Show Boat
and
Godspell
. In three years time she had moved to Vienna, Austria and was performing with the Viennese Folk Opera. In 1971 she had a one-off European record deal with Decca Records in which she did a cover of the Jaynetts song "Sally Go 'Round the Roses". In 1972, she released the single, "If You Walkin' Alone" on the Dutch label Phillips Records. In 1973, Donna married Austrian actor Helmuth Sommer and they had a daughter, Mimi, the following year. However, by 1975 her marriage had crumbled because of her affair with the German artist, Peter Muhldorfer and she formally divorced from Helmuth Sommer. Donna kept his last name and Anglicized it to Summer, hence Ladonna Gaines became forever known as Donna Summer. After her divorce she along with her boyfriend Peter Muhldorfer, who was a surrealist painter, moved back to America living in Los Angels.
While providing background vocals for the 1970's group
Three Dog Night,
Donna met music producers Giorgio Moroder and Pete Bellotte. She eventually would sign a deal with European label Groovy Records and in 1974 issued her first album,
Lady of the Night
. But there was no release of it in America and was met with limited success in Europe mainly due to the song
"The Hostage"
, which went to #1 in Belgium and #2 in the Netherlands.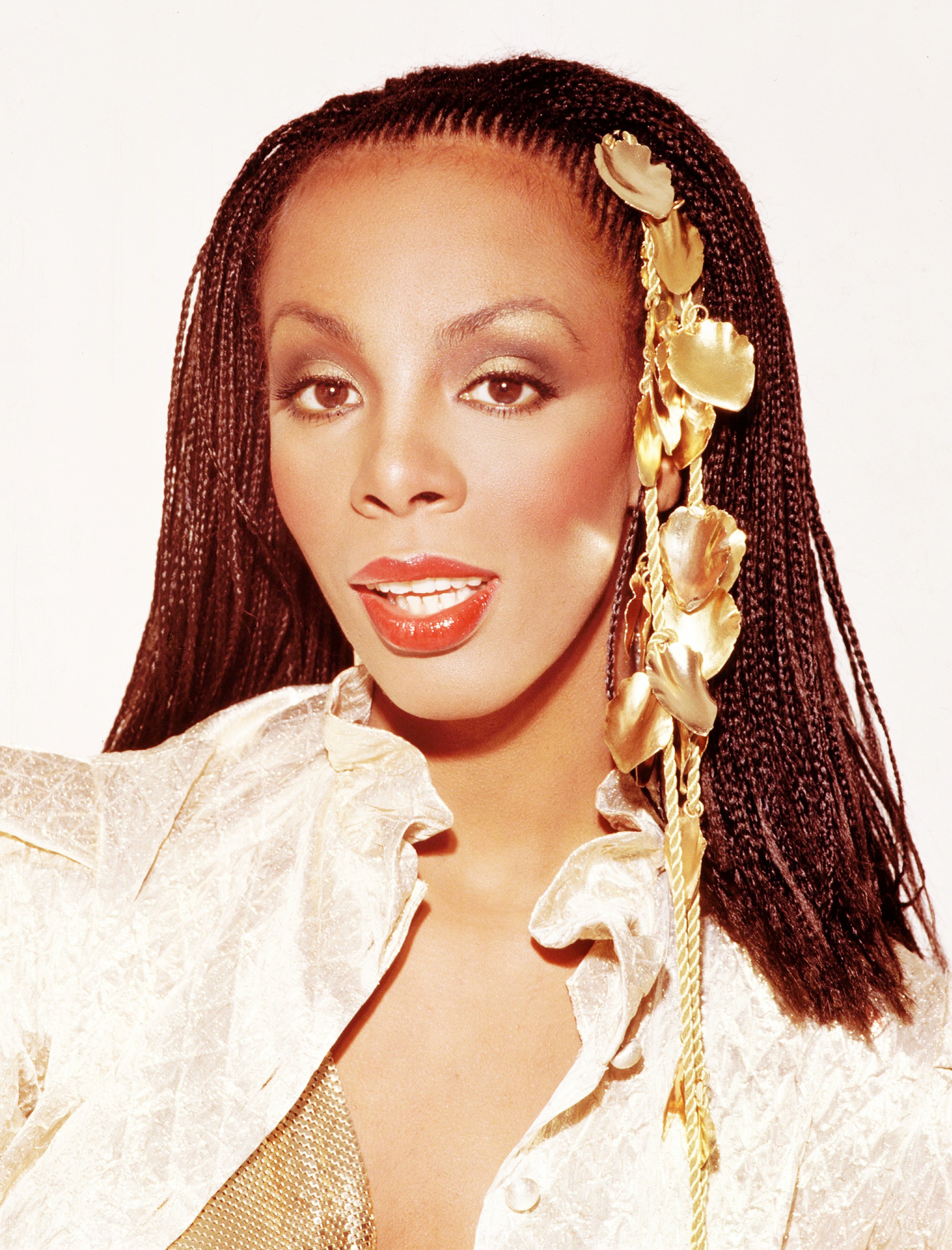 In 1975, Donna went to Moroder with an idea for a song that Bellotte and she had been working on for another singer.She had come up with the lyric " love to love you, baby". Moroder became interested in the new popular sound that happening and used Donna's lyric to develop the song. Summer was persuaded by Moroder to record the demo for another artist but when Moroder listen to the playback of the demo, he felt that Donna's version ought to be released instead.
The song was sent to Casablanca Records president Neil Bogart in hopes that it would be released in America. Bogart told Moroder and Bellotte that if they could do a longer version for the discothequeshe would release the song, now called "
Love to Love You,Baby
". So, Moroder, Bellotte and Summer came back with a 17 minute version and Casablanca signed Donna Summer and released the single in November of 1975. While the clubs were playing the 17 minute version of the song ( also on the album "Love to Love You, Baby"), the radio stations were playing the shorter version. By early 1976, "Love to Love Youu, Baby reached #2 on U.S Billboard Hot 100, while the album sold over a million copies.The song became controversial due to Donna's moans and groans and some radio stations in America and Europe, including the BBC, refused to play it. But the song found success in Europe and made it the Top 5 in England, despite the BBC ban.
Thus began Donna Summer's successful musical career. But while she was becoming successful her boyfriend Peter Muhldofer was becoming resentful of all of her fame and it drove a wedge in between the two.Donna had stated that he became violent and with the help of Casablanca president Neil Bogart he was eventually forced to return home to Germany after his visa was revoked.
In 1978, while recording the hit track "
Heaven Knows
", featuring Brooklyn Dreams member Joe "Bean" Esposito on vocals, Donna met fellow member Bruce Sudano. Within a few months they were dating. Donna and Bruce married on July 16, 1980. A year later she gave birth to their first child together, a daughter, Brooklyn and the following year another daughter, Amanda was welcomed into the family.
She had often talked about the early part of her career as being filled with confusion and anxiety. By mid-1977, because of her struggle with the media's naming her "the first lady of love", she began suffering from anxiety attacks and depression. Donna Summer wrote in her memoir that she had made several attempts at suicide. During this time she began to take prescription drugs as a self-medication and this led to her becoming an addict. Following a nervous breakdown in her home in 1979, Donna went to a local church with her sister and became a born-again Christian. It was then that she decided that she would no longer sing "Love to Love You, Baby", but 25 years later she did. Even as recent as 2011 she re-recorded the tracks, complete with moans and groans, for the "Loveoverdose" fragrance by Diesel.
Donna Summer and her family moved to Nashville, Tennessee in 1994 because she was taking time out of show business to focus on painting, a hobby she took up in 1985.
Driven by Music by Donna Summer, artist
Now we come to today May 17, 2012 with the loss of singer and artist, Donna Summer. Thank You for the music and the paintings. You will live forever in your family, fans and your art both music and paintings.