Yesterday we lost "America's Oldest Living Teenager", Dick Clark was born November 30, 1929 in Bronxville, New York and was raised in Mount Vernon, New York.Dick Clark's show business career began in 1945 in the mailroom of WRUN, a radio station that one of his uncles owned and that was managed by his father, Richard Augustus Clark, in Utica, New York.Soon Dick Clarck was promoted to weatherman and news announcer. In 1951, he graduated from Syracuse University with a degree in business.
WFIL picture
In 1952, Dick Clark moved to Drexel Hill, PA , outside Philly, where he was neighbors with Ed McMahon. In Philadelphia Dick Clark took a job at WFIL radio station as a disc jockey. WFIL had a television station with the same call sign which began airing a show called
Bob Horn's Bandstand
in 1952. Mr. Clark became the primary host of the show, after having been a regular substitute host, in 1956 after Horn was fired because of a drunk driving arrest. The show was then picked p by ABC television network and was renamed
American Bandstand
and went on the air for the first time on August5, 1957. And on that very first show Dick Clark interviewed Elvis Presley.
Dick Clark also ended the shows previous all-white rule when he took over Bandstand and introduced black artist to America like Little Richard and Chuck Berry. But he did not include the Stones or the Beatles on his show when they came to America, because he thought they would not be as big as they got. He also produced and hosted a series of concert tours in the 1950's and 1960's, which by 1959 had a national audience of 20 million. The shows were among the first where there were both black and white performers on the same stage. Eventualy, the seating was also desegregated.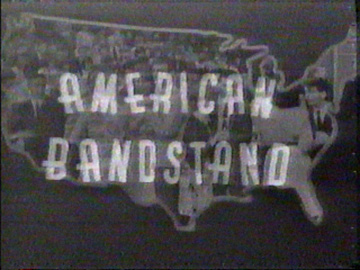 In 1964
American Bandstand
was moved from Philadelphia to Los Angles, California to take advantage of the beach music scene with the popularity of "surf" groups like the Beach Boys and Jan and Dean. The show ran daily Monday through Friday until 1963 and then it just was on television on Saturdays until 1987.
(This was the best way to spend Saturday mornings, watching American Bandstand and then Soul Train. and shaking my butt to the music on these shows when I was a kid and I don't think I was the only one.)
1972 was the launch of Dick Clark's New Year's Rockin' Eve and 40 years later. It is still broadcast every New Year's Eve with Dick Clark having hosted the show in a live remote in New York's Time Square, counting down until the ball drops. After this the program turns to the musical acts that have been taped prior to the show in Hollywood, California.
There have only been two occasions he was not able to host his show. The first was the end of 1999 going into 2000 because ABC showed a news special
ABC 2000 Today
, which was hosted by Peter Jennings. But, Dick Clark and ABC news correspondent Jack Ford were able to do the signature countdown. The second time was in 2004because Mr. Clark had suffered a stroke. Regis Philbin stepped in and hosted that show for him. The following year he came back to the show but Ryan Seacrest served as primary host. From 2007 -2011, Dick Clark co-hosted New Year's Rockin' Eve with Ryan Seacrest, with his speech improving and his post-stroke role improving each year. The last 3 years he was splitting his time evenly with Seacrest in the 30 minutes leading up to the ball drop.
He was also the host of the of one of my favorite game shows when I was a kid and would watch it in the afternoon at my maternal grandmother's house,
the $20,000 Pyramid
on ABC from 1974 - 1980. In 1973 it started on CBS as
the $10,000 Pyramid
.
Also in '73, Dick Clark started the American Music Awards show as direct competition to the Grammy awards. The thing is that as the years went by the AMA's became bigger than the the Grammy's due to it being more in touch with popular trends.
In 1984 he co-hosted with Ed McMahon another popular show
TV's Bloopers and Practical Jokes
. The series was first aired in 1984 on NBC, later on ABC, and ran through 1988. It then continued in specials hosted by Dick Clark and sometimes another television personality into the mid-2000's. In September of 2012 the show will return to television as a first - run syndicated series.
Dick Clark died on April 18, 2012 in Santa Monica, California of a heart attack after going through a medical procedure at Saint John's Health Center.
Richard Wagstaff "Dick" Clark lived and worked a life many can only dream of. He will forever remain rockin' in our hearts.
"Bandstand Boogie" (the American Banstand theme song in full) by Barry Manilow