Saint David ( 462,487 or.500-589) in Welsh Dewi Sant. The life story and legends of Saint David are based largely on Rhygyfarch story
Buchedd Dewi
of the late 11th century. Rhygyfarch claimed it was based on documents found in the cathedral.However, some modern historians are skeptical of its claims: one of Rhygyfarch' aims was to establish some independence for the Welsh church, which had refused the Roman rite until the 8th century and now, following the Norman invasion of 1066, was to seek a metropolitan status equal to that of Canterbury.
In accordance to accepted general legend, Saint David as the product of rape. His mother is a lady of Irish noble birth living in Dyfed. who went by the name Lady Non. She had taken the religious life, joining convent at Ty Gwyn near Whitesands Bay. However, her beauty brought her the unwanted attention of Sandde, prince of the Kingdom Ceredigion, who was traveling nearby. His advances to Non were vehemently rejected by her but to no avail, for he forced himself upon her.
Statue of St. Non
As a result of the attack on Non, she became pregnant with St. David: a man of such holiness that while still in his mother's womb he was able to perform miracles. An old story tells of when Non, during her pregnancy, entered a church to listen to the preachings of a local priest and the man was immediately struck dumb. Because her child was soon to excel all religious leaders,the cleric found himself unable to continue in the presence of the great man.
St. David's birth was no less miraculous, for at the time of his birth Non had went into hiding and gave birth to him at Caerfrai, on the coast just south of Mynyw (St.Davids), in the middle of a violent storm. During his birth, Non pressed her fingers so hard into the rock beside her that she left an impression. A baby boy was born in a sea of brilliant light and the boulder was split in two by a bolt of lighting. Non named her son Dewidd but was commonly called Dewi. David is English for the Latin name Davidus.
A chapel was built where Dewi was born and its ruins can still be seen today. St. Non's Well, having her statue, is nearby.
St. Non's Well in St. Davids, Pembrokeshire, Wales
David was brought up by his mother in Henfynyw, near Aberaeron and, at a young age, was baptized by his maternal cousin, St. Eiflyw. While at Henfynyw, Non and St. David founded a nunnery at nearby Llanon.
Saint David may have been educated by St. Colman of Dromore, but to some, this seems unlikely.
David was greatly attracted to the Welsh Church and a soon as he had reached adulthood he beacame a priest. He traveled to the island of Wincdi-Lantquendi ( possibly Whitland) in order to study under St. Paulinus of Wales. David stayed there for ten years and possibly also studied under St. Illtud at Llanilltud Fawr ( Llantwit Major) around this time. He was a star pupil, even curing Paulinus of of his blindness.
Saint David then began his travels of Wales, preaching the Gospel along the way. He is said to have founded 12 monasteries, though many finds are said to be in error by later claims. 20th century researcher and genealogist PC Bartum suggest that possible genuine foundations may have included Glasgwm (Elfael, a Welsh kingdom), Colfa (Elfael), Llangyfeach (Gwyr), Llanarthe (Ystrad Tywi),and Betws ( Ystrad Twyi). Saint David also visited the court of the King Proprius of Ergyng and cured his blindness as well.
David eventually returned home to Henfynyw where he met up with his relation, Bishop Gwestlan. The two ere companions and neighbors for some time, before Saint David moved to nearby, Rhoson Uchaf near Mynyw (St. Davids). He was accompanied by a number of disciples including Aeddan, a Pictish overlord, Teilo and Ysfael, and together they founded the monastery of Mynyw. An Irish cieftan, named Bwya, living near the monastery at Castell Penlan, was not happy about the invasion of the monks and planned to drive them out. As planned out, his wife sent her maidservants to bathe in the River Alun in order to tempt David and his followers, but the clerics were not impressed. Soon a sting of bad luck befell the Irish couple and David was able to settle down without any further harassment.
The River Alun
By this time, St. David's fame as a spiritual leader was becoming widespread throughout Britain. He had became known as "the Waterman" - David Aquaticus (Dewi Dyfyrwr) - because he encouraged his followers to bathe, drink and live in cold water. He attracted from many walks of life, like retires monarch Saint Constantine of Dmmonia . From Henfynyw , they spread the Word of God, travelling across the countryand especially to Ireland. St. Aeddan crossed the Irish Sea and found the monastery of Ferns from where he received a premonition that St. David was about to be poisoned. He sent his companion, Ysgolan, to save David from assassination. Other Irish visitors, including Bishop Barre,to whom David lent a miraculous horse that carried him home across the sea.
David then decided to take a pilgrimage to Jerusalem with Sts. Teilo and Padam . It is said that they were there consecrated bishops by the patriarch. Upon his return to Wales, in AD 545, Saints Deiniol, Bishop of Bangor Fawr, and Dyfrig, Archbishop of Ergyng (and said to be the Bishop of Wales) persuaded St. David to attend the Synod of Llandewi Brefi, which had been convene to discuss the discipline within the church and to stamp out the Pelagian Heresy
*
. St. Paulinus of Wales had recommended his old student, since St. David's six foot stature made him ideal for addressing the vast crowds. The story goes that David spoke so eloquently before his peers that a hill miraculously raised up under him. Dyfrig resigned his Archiepiscopate immediately in David's favor; and he moved the cathedral from Caerleon to his own foundation at Mynyw. St. Gildas is said to have disputed the appointed, but Saints Cadog and Finnian of Clonard ruled in favor of David. It appears to be unlikely that an archiepiscopal see existed in Wales at this time, but David's monastery does seem to have eclipsed the influence of the more easterly church. A second synod, of Victoria, was summoned in AD 569,to re-assert the anti -pelagian decrees agreed at Brefi.
It is possible that David visited Glastonbury in Somerset. He had learned of the abbey great sanctity and wished to dedicate the building. However, upon his arrival, St. David had a dream in which the Lord appeared to him and told him that he had already dedicated the church in honor of His mother, Saint Mary. So, St. David instead decided to extend the 'Old Church' erected by St. Joseph of Arimathea and erected a more extensive building to the east.
Saint David died on a Tuesday March 1, 589. The monastery is said to have been ' filled with angels as Christ received his soul'. His last words to his followers were from his last sermon on the previous Sunday. Rhygyfarch transcribes these as " Be joyful, and keep your faith and your creed. Do the little things you have seen me do and heard about. I will walk the path that our fathers have trod before us. " " Do the little things in life" ( Gwnewch y pethau bychain mewn bywyd) is today a well-know phrase in Wales.
St. David is buried at St. David's Cathedral at St. Davids, Pembrokeshire, where his shrine was a popular pilgrimage site during the Middle Ages. "It was so important that medieval Pope Calixtus II decreed that two pilgrimages there were equivalent to one trip to Rome. Three visits to the hallowed spot were the equivalent to one pilgrimage to Jerusalem."
*
In the 10th and 11th centuries the Vikings frequently raided the cathedral removing the shrine and stealing the precious metal adornments on it. A new shrine was built in 1275, the ruined base of it remains to this day, which was originally topped with an ornamental wooden canopy with murals of St. Patrick, St. David and St. Denis of France. The relics of St. David and St. Justinian were kept in a portable casket on the stone base of the shrine. It was this shrine that Edward I came to pray in 1284. It was during the Reformation that Bishop Barlowe, a staunch Protestant, stripped St. David's shrine of its jewels and confiscated the relics of Sts. David and Justinian.
Saint David is the patron saint of Wales, Pembrokeshire, vegetarians and poets.
St. David's flag. A Illuman glan Dewi a ddyrchafant ( And they will raise the pure banner of Dewi)


St. David's Feast Day is March 1 in remembrance of the day of his death. On this day, it is the tradition in Wales for the children to take part in school concerts, known as eisteddfodau, with recitation and singing being the main activities. Formery, a half day holiday was given to school children. Officialy this custom no longer continues but has become a school-by-school decision.
Additionally,various Regiments of the British Army make use of aspects of St. David's cross, St. David himself, or songs of St. David in their formalities during the celebrations. Many Welsh people wear one or both of the national emblems of Wales on their lapels to honor St. David : the daffodil ( a generic Welsh symbol which is in season during March) or the leek (St. David's personal symbol) on this day. The leek rises from the occasion when a troop of Welsh were able to distinguish one another from the English enemy, who were dressed in similar fashion, by wearing leeks. The association between the leek and daffodil is strengthened by the fact that they have similar names in Welsh, Cenhinen (leek) and Cenhinen Pedr (daffodil, literally meaning Peter's leek). Sometimes the younger girls will were traditional Welsh costumes to school. It consists of a long woolen skirt, white blouse and a Welsh cap.
Cawl, a Welsh stew made of meat and vegetables. Even though the ingrediets can vary, it is common to use lamb and leeks, is frequently made on St. David's Day.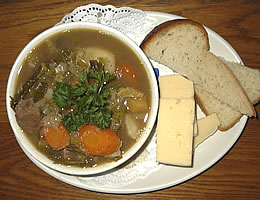 cawl