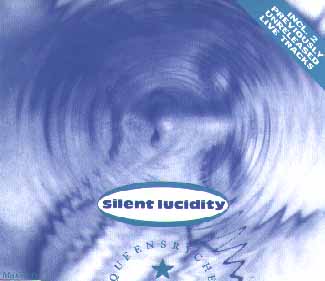 "Silent Lucidity", a single, by the American rock band Queensryche was released in the spring of 1990 off of their album 'Empire', that was released in August of 1990."Silent Lucidity" was written and composed by Queensryche's lead guitarist, Chris DeGarmo.
Because of the song title and lyrical content, it was assumed that "Silent Lucidity" was about lucid dreaming. During the middle eight, or bridge, a voice that is heavily uses a vocoder even explains a method for this:
"Visualize your dream. Record it in the present tense. Put it into permanent form. If you persist in your efforts, you can achieve dream control."
The song was recorded with sweeping orchestrations. The orchestra was often not assigned to the background but was instead very prominent such as during the second half of the instrumental section. At the end of "Silent Lucidity"a double bass or cello plays
Brahms' Lullaby
_ the English translation being
"Lullaby,
and goodnight, go to sleep little baby"
"Silent Lucidity" peaked at #9 on the Billboard Hot 100 and #1 on Billboard Album Rock Tracks chart. The song is ranked #21 on VH1's list of Greatest Power Ballads. And because Queensryche was nominated for a Grammy in the "Best Rock Song Category", they performed the song at the Grammy Awards in 1992, but was won by Sting for his album, "The Soul Cages". But "Silent Lucidity" did win the MTV Viewr's Choice Award" for its music video.
SILENT LUCIDITY
Wipe away the teardrops from your eye
Your mind tricked you to feel the pain
Of someone close to you leaving the game of life
So here it is, another chance
Wide awake you face the day
Your dream is over or has it just begun?
There is a place I like to hide
A doorway that I run to in the night
Relax child you were there
But only didn't realize it and were scared
It's a place where you will learn
To face your fears,retrace the years
And ride the whims of your mind
Commanding in another world
Suddenly you hear and see
I will be watching over you
I am gonna help you see it through
I will protect you in the night
I am smiling next to you, in Silent Lucidity
Record it at present tense
Put it into a permanent form
If you persist in your efforts
You can achieve dream control
If you open your eyes for me
You won't rely on open eyes to see
The walls you built within
Come tumbling down, and a new world will begin
Living twice at once you learn
You're safe from the pain in the dream domain
A soul set free to fly
A round trip journey in your head
Master of illusion,can you realize
Your dream's alive, you can be the guide but...
I will be watching over you
I am gonna help you see it through
I will protect you in the night
I am smiling next to you